Global Governance in Peril? | Article 1
The Role of Transnational Policy Networks in Contemporary Global Governance
Reading time: 4 min
The recent evolution of contemporary global governance institutions is characterised by an increasing role of non-state actors, informal intergovernmental organisations and transnational governance initiatives. Associated with informal governance, "transnational policy networks" (TPNs) – a new concept – are groups of experts who operate around, not within, international organisations. They are important players in policy formation and the development and reform of policy instruments.
Although most of our theories of international or global governance have long focused on the role of formal, treaty-based intergovernmental organisations (or FIGOs), the world of multilateral governance by states is today only a part of a much larger story.
The Increase of Non-State Actors and Informal Governance
There has been a significant increase in the role played by non-state actors in contemporary global governance, coupled with a surge in informal intergovernmental organisations (or IIGOs, like the G-groups) and transnational governance initiatives (or TGIs, including both public-private partnerships and multistakeholder initiatives) over the past twenty-five years. Concurrently, states have moved away from the signing of new multilateral, treaty-based agreements and relied less on international courts. There is a growing and increasingly broad-based consensus that it is no longer possible to focus exclusively, or even predominantly, on states and their interactions in intergovernmental organisations to comprehend, understand, and analyse contemporary global governance. In a forthcoming edited volume titled Informal Governance in World Politics – from which much of this article is drawn –, Oliver Westerwinter, Kenneth Abbott, and I have developed a typology of three forms of informal governance: (1) informality in institutional form (the growth of IIGOs and TGIs), (2) informal practices within both formal and informal organisations, and (3) informal interactions among the individuals and networks that exist around the institutions of global governance.
Much of the recent literature on global governance examines the different institutional forms that operate within the arena in which informal governance occurs, in the spaces around formal intergovernmental organisations (our third type of informal governance). The different institutional forms that are examined in the literature – from public-private partnerships to transnational advocacy networks, issue campaigns, and multistakeholder and transnational governance initiatives – exemplify different analytical approaches to the emergent phenomenon. With particular reference to the United Nations, this arena has been described as "the Third UN".
Transnational Policy Networks (TPNs)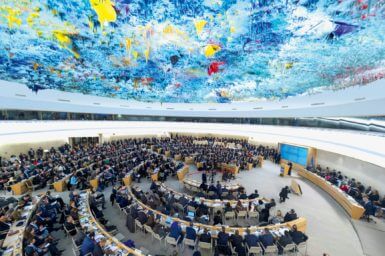 An alternative concept – transnational policy networks (TPNs) –illustrates how these different institutional components are interrelated and play different functional roles in the development of global policy through the agency of individuals. The networked relationships among individuals engaged in policy formation and policy innovation in different domains of contemporary global governance build upon the concept of specialised "fields" of expertise and on sociological research on transnational policy communities. A TPN is constituted by a group of individuals across a variety of institutions (both public and private) who possess a common expertise, a common technical language to communicate that expertise, broadly shared normative concerns, but not necessarily agreement on specific policy goals. A shared, specialised language defines both the possibility of entry into the network and a basis for exclusion or alienation from it.
In contrast to other institutional arrangements, TPNs might include individuals from NGOs, but they are more technical in orientation and less associated with advocacy. Individuals from within transgovernmental networks (TGNs) routinely engage with one another in transnational policy networks. TPNs transcend TGNs, however, by including actors other than state officials – from the private business sector, international organisations, international legal practice, or academia. TPNs are less formally contractual than most PPPs and less immediately outcome oriented. TPNs may, however, involve PPPs for the achievement of a particular purpose. TPNs are also less institutionalised than most multistakeholder initiatives (MSIs) that are designed for specific monitoring or regulatory purposes. Unlike many MSIs and most TGIs, TPNs focus more on policy formation and the development and reform of policy instruments than on regulatory frameworks.
Different institutional forms tend to play different roles in global governance. TPNs are particularly important in the early phases of policy development, but can continue to play a significant role when governance arrangements lack legitimacy, fall short of performance expectations, and need reform. They have frequently been associated with UN reform efforts, dating back to initiatives like the Brandt and Brundtland Commissions in the late 20th century, as well as to more recent initiatives like the Global Compact and the Millennium Project. Today, they exist across the UN, particularly in emerging issue domains where the organs of governance are less well institutionalised. Rather than competing with the UN, TPNs can complement its activities, particularly given the current financial constraints faced by the UN and its associated agencies, funds and programmes.
While critics of expertise raise legitimate normative concerns about the ability of TPNs to shape the priorities of FIGOs without bearing full accountability, they have in many instances reinforced, rather than weakened, existing institutions of global governance.Rather than competing with the UN, TPNs can complement its activities, particularly given the current financial constraints faced by the UN. They can mobilise expertise in areas where it is lacking in existing organisations, and they can suggest novel solutions to contemporary policy and governance challenges that might not be allowed by restrictive or inflexible institutional mandates. They are also a vehicle for the mobilisation of resources for the global public good, since most participate in TPNs without direct financial compensation. They have played important roles in issue domains as varied as the creation of codes of conduct for private military and security companies, the development of targeted sanctions, and the nascent governance of cyberspace. Given their flexible institutional characteristics, and the growing reticence of states to address contemporary governance challenges through formal institutional structures alone, TPNs are likely to become more important forms of informal governance in the future.
To Top