Democracy at Risk | Introduction
Democracy at the Crossroads
Reading time: 5 min
In what has been described as a "decade of decline" (2006–2016) for liberal democracy, freedom has been continuously eroding all over the world. More than 20 years after Francis Fukuyama's triumphant celebration of the "end of history", it seems that liberalism, both economic (free trade) and political (pluralism, civil liberties, constitutional safeguards), is in serious crisis.
It is autocracy, not democracy, that has been the norm in human history.Robert Kagan, 2015A feeling of growing disempowerment has led to political cynicism and a disconnection of the general public from the body politic. Rates of public participation and confidence in institutions and traditional parties have plummeted. With popular anger on the rise, populism has made a spectacular (re)entry on the political scene.
The liberal foundations of democracy appear to be shakier than ever before. In 2015, Turkey ranked last among electoral democracies in Freedom House's index. The Arab Spring has given way to widespread disillusion and violence. In Latin America, several democracies have regressed on the slippery slope towards cronyism (Brazil) and authoritarianism (Venezuela, Bolivia). Asian democracies are facing trouble too, as illustrated by a regain in nationalist rhetoric (Japan), endemic corruption (South Korea) and outright illiberalism (the Philippines).
What is equally a cause for concern is that democracy is on the defensive in its Western heartland. The Economist's Democracy Index in 2016 downgraded the United States, the beacon of democracy for much of the modern era, to a "flawed democracy". Deep disenchantment with democracy is sweeping Eastern and Central Europe as Hungary and Poland dismantle constitutional rights and civil liberties. Populist leaders in Western Europe (Nigel Farage, Marine Le Pen, Beppe Grillo, Geert Wilders, Frauke Petry) have followed suit.
Paradox: democratic success but liberal decline
Despite such alarming signs, however, democracy remains perhaps the most successful political idea in modern history. In 2015, it was the most widespread form of government in the world, with largely "free and fair" electoral processes in place in 125 countries. Most surveys show that democracy continues to enjoy a near-universal appeal. Even liberal democracy's detractors such as Recep Tayyip Erdoğan, Narenda Modi, Viktor Orbán, Vladimir Putin, Rodrigo Duterte, Beata Szydlo and Donald Trump have all been elected by majorities and praise their own democratic credentials. Outright autocratic regimes such as China (PRC), Cuba and North Korea call themselves democracies too.
We thus face a paradox: while electoral democracy continues to be acclaimed everywhere, a series of indicators measuring political and civic freedom show it to be in deep trouble. This paradox of democratic success but liberal decline calls for a more fine-grained analysis and a sharpening of our analytical tools if we are to better understand the rise of these new forms of elected but authoritarian governance.
The key to this paradox may well reside in the notion of "illiberal democracy", first coined by Fareed Zakaria in 1997. According to Zakaria, what is fundamentally at stake is not democracy but liberalism. Since liberal democracy for many has come to stand for democracy tout court, it is now seriously challenged by the new phenomenon of illiberal democracies on the ascendency.
"ILLIBERAL DEMOCRACY"
Illiberal democracies are best characterised as regimes that have been elected by a popular majority but strive to undermine constitutional safeguards, the rule of law and civil liberties. Adopting a winner-takes-it-all approach (volonté générale), they entertain the myth of a sacred unity between the leader and "the nation" and discriminate against ethnic, religious and/or sexual minorities. They tend to concentrate power in the executive in a process of constitutional re-engineering that co-opts or corrodes the judiciary (Hungary, Poland), the legislative (Venezuela), or both (Russia). They weaken civil society by reverting to a set of "authoritarian best practices" including media censorship and state propaganda. They mobilise resentment and anxieties by constructing enemies, both external (migrants, the European Union) and internal (NGOs, human rights activists). Political opponents are intimidated, publicly vilified ("lock-her-upism") or subjected to repression by the arbitrary application of purposefully vague laws – often anti-terrorism legislation. The final step in consolidating illiberal democracies consists in emasculating the electoral process: not by rigging elections – which usually remain free and fair – but by loading the dice long in advance.
In a marked difference from more full-blown authoritarian regimes, illiberal democracies are not, however, yearning for the total control of society and regularly seek popular legitimisation through the tools of direct democracy (referenda, plebiscites). Putting in place an elaborate system of societal monitoring and media entertainment, illiberal democracies are only selectively repressive and strive to maintain an illusion of pluralism.
THE Causes BEHIND the rise of illiberal democracies
A number of potential causes may be identified behind the recent surge of illiberal democracies.
First, younger generations show signs of historical amnesia as they are no longer cognisant of the totalitarian horrors of the 20th century. Cradled by the benefits of liberal democracy, millennials, in particular, seem to have lost the sense of urgency of defending civic rights and freedoms.
Second, a generalised sentiment of insecurity and occupational angst in a fast-changing world has led to the estrangement of the citizens from their political elites. The steady rise in economic inequality seems to have fractured the social contract.
Third, the social media revolution, coupled with postmodern epistemic uncertainty, has ushered a new era of "post-truth politics" with little space for rational dialogue. Illiberals are thriving on fake news, equating opinions to truth claims, and on the pretence that power bears intellectual legitimacy.
Fourth, the retreat of the United States from its traditional role of global harbinger of democracy has left a vacuum promptly filled by other powers. China and Russia have been quick to put forth alternative models deemed more competitive, or morally righteous, than Western liberal democracy. Russia has shown little restraint in intervening in European and American politics. Leaders of illiberal democracies, in turn, have professed solidarity with – and mimetically borrowed from – their more experienced authoritarian counterparts.
Fifth, and finally, since its emergence in the Age of Enlightenment, liberalism has entertained a complex and tension-riddled relationship with democracy. As the 20th century has shown, the combination of democracy (equality) and liberalism (freedom) is an utterly fragile construct.Since its emergence in the Age of Enlightenment, liberalism has entertained a complex and tension-riddled relationship with democracy
Whereas the causes behind the current rise of illiberal democracy can be identified with relative ease, the question remains how the phenomenon is likely to evolve in the 21st century. Will the newly emerging illiberal democracies stabilise and become a permanent fixture of geopolitics? What forces and safeguards, on the contrary, are currently working in liberal democracy's favour and what is needed to preserve it for the future?
Seven cases studies
To answer these questions, the present Dossier, produced in collaboration with the Albert Hirschman Centre on Democracy and professors of the Graduate Institute of International and Development Studies, investigates seven case studies from around the world, starting from the premise that illiberal democracy is best represented on a continuum ranging from first worrying signs as in Trump's America to more advanced authoritarian regimes as in Putin's Russia – with many shades and nuances in between.
Info Box
Map: The Decline of Democracy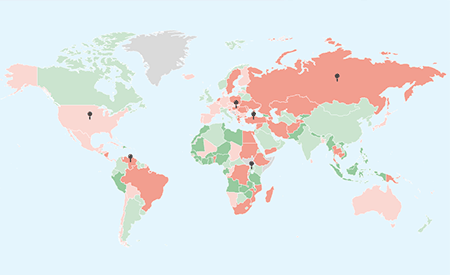 Read more...
To Top