The Uncertain Future of Human Rights | Article 7
Coherence and Alignment: The Future of Business and Human Rights
Reading time: 5 min
Since the introduction of the UN Guiding Principles on Business and Human Rights, companies have a concrete tool to prevent human rights violations in their own operations and across their value chain. The task now – for companies and governments alike – is to ensure that this tool doesn't become a box-checking exercise but a rather means to make genuine progress.
Lost in Wonderlands, Alice asked the Cheshire Cat which way she ought to go. "That depends a good deal on where you want to get to", said the Cat. "I don't much care where", said Alice. "Then it doesn't matter which way you go", said the Cat, "– so long as I get somewhere", Alice added as an explanation. "Oh, you're sure to do that", said the Cat, "if you only walk long enough."
For better and for worse, the future of business and human rights shares a lot of similarities with Alice. For better, there is a clear opportunity to continue moving, building on the clarity and accountability brought by the 2011 UN Guiding Principles on Business and Human Rights (UNGPs). For worse, the emergence of new rules also created a lot of "box-ticking" exercises, just going somewhere without caring so much about where.
Moving from theory to practice, the UNGPs have firmly established the concept of corporate human rights due diligence. Considerable challenges remain when it comes to their uptake, coherent implementation or the provision of access to remedy for affected people. Nevertheless, the introduction of the concept of human rights due diligence by the UNGPs provided companies with a concrete management tool to prevent or address adverse impacts to people emanating from their own operations or their business relationships. It also gave external stakeholders, ranging from civil society to investors to public authorities, the means to assess corporate human rights efforts, or to use the language of the UNGPs "to know" what the impacts are, and "to show" that they are addressing them. Put differently, the UNGPs have articulated what right is right for business and provided the measure of what it means to be a "responsible business".
Now, a successful future of business and human rights requires not only to walk long enough, but also to have a sense of direction. Now, a successful future of business and human rights requires not only to walk long enough, but also to have a sense of direction.
The UNGPs constitute a roadmap for businesses to improve their human rights performance. They have also paved the way for legal developments in many jurisdictions, moving from muddied "corporate responsibility" to the respect of human rights and from soft law to hard law. Accordingly, business and human rights have evolved from a focus on specific issues such as "conflict minerals" or modern slavery and forced labour to more comprehensive laws in France, with the "Duty of Vigilance Act", in Germany's "Supply Chain Act", in Norway's "Transparency Act" and at the regional level with the draft EU-wide mandatory human rights due diligence directive. With this important number of states having already committed to hard law domestically, it makes little doubt that these national and regional initiatives will foster a more conducive environment among states to find compromises at the international level in the Human Rights Council ongoing negotiations for a Legally Binding Instrument to Regulate, in International Human Rights Law, the Activities of Transnational Corporations and Other Business Enterprises (see here the latest draft).
This process of hardening the UNGPs at the domestic and international level is expected and welcomed by an ever-growing number of businesses who, after a decade of experience with the UNGPs, appreciate the potential for greater legal certainty, more level playing fields, increased leverage within value chains and better integrated risk management.
Human rights due diligence can be legalised in many different forms, as illustrated by the important differences in the substance and scope of the legal due diligence provisions in force today. A perfect example is the German Supply Chain Due Diligence Act adopted in June 2021, which, on the positive side, contains progressive elements to foster the state to fulfil its duty to protect and businesses to meet their corporate responsibility to respect human rights. More generally, it also feeds the momentum for mandatory measures to promote corporate respect for human rights. On the downside, however, the German Act's specific due diligence obligation only applies to the company's own activities and its direct suppliers. Failing to address the supply chain in its entirety, it thus falls short of the regime of the UNGPs.
This highlights clearly that hardening the UNGPs entails its own pitfalls and that policymakers and the gamut of advocacy and lobbying groups influencing these processes will therefore need to conduct their own due diligence to ensure that the upcoming legal obligations and liability regimes for these laws are carefully calibrated to remain aligned with the UNGPs, to avoid divergent or arbitrary interpretation, as well as guarding against unintended consequences such as "check box" due diligence approaches or empty promises for effective remedies by states and businesses. Or, to go back to Alice, to avoid the danger of not caring much what law so long as we get some law.
At a time when multilateralism in general, and the human rights system in particular, struggles more than ever to find a common understanding or shared interests, the UNGPs also stand for a concrete and successful exemplification of global polycentric governance, allowing to pass the deadlock of only state-based solutions. They indeed call on multiple actors, in addition to states, to shape responsible business conduct, ranging from civil society advocacy campaigns to market or investors' pressures to new forms of corporate governance which recognise without ambiguity respect for human rights as in the best interests of the corporation.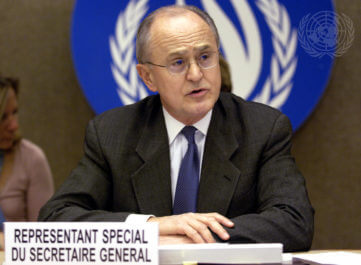 The UNGPs 10+ Roadmap for the next decade – launched at the 2021 UN Forum on Business and Human Rights – sets out key action areas for the road ahead and for progressively getting closer to a more comprehensive implementation of the UNGPs. Each action area, ranging from positioning the UNGPs as a compass for meeting global challenges to better international cooperation and implementation support, identifies priority goals for what needs to happen and supporting actions to be taken by states and businesses as well as other key stakeholders, all playing a role in realising the UNGPs implementation. The roadmap's ultimate objective echoes that of the UNGPs themselves – that business should translate human rights to practice in order to "achieve tangible results for affected individuals and communities, and thereby also contributing to a socially sustainable globalization".
A key overarching challenge of the next decade is bridging the international policy coherence gap across different sectors.And yet, issues such as sustainability, climate change and human rights are most often treated in silos, reinventing the wheel of "putting people at the centre" each and every time Accordingly, the road to sustainable development, just transition and responsible recovery from the pandemic crisis needs to adhere to the imperative of the respect for people and their human rights. The UNGPs provide not only the global framework to do so, but also a concrete tool of human rights due diligence. And yet, issues such as sustainability, climate change and human rights are most often treated in silos, reinventing the wheel of "putting people at the centre" each and every time. An encouraging precedent of dealing with such issues in a more integrated way comes from the 2020 EU taxonomy for sustainable activities, which specifically requires businesses' economic activities to align both with the OECD Guidelines for Multinational Enterprises and the UN Guiding Principles on Business and Human Rights to be qualified as sustainable.
If the past decade is any indication of the future of business and human rights, progress is on the way. But never fast enough or wide enough. While there are encouraging signs, fully seizing the opportunity to ensure that business activities are truly responsible will require business as well as policy- and decision-makers to move beyond lip service, indeed to know and show.
TIMELINE: Major International Human Rights Treaties
1948. Universal Declaration of Human Rights (Universal Declaration)
1948. Genocide Convention
1951. Refugee Convention
1960. Discrimination in Employment Convention
1965. Racial Discrimination Convention
1966. Economic, Social and Cultural Rights Covenant
1966. Civil and Political Rights Covenant
1979. Discrimination against Women Convention
1984. Convention against Torture
1989. Children's Convention
1989. Indigenous Peoples Convention
1990. Convention on Migrant Workers
2006. Convention on Persons with Disabilities
2007. Declaration on the Rights of Indigenous Peoples
2011. Declaration on Human Rights Education and Training
Based on the information produced by the Australian Human Rights Commission
To Top